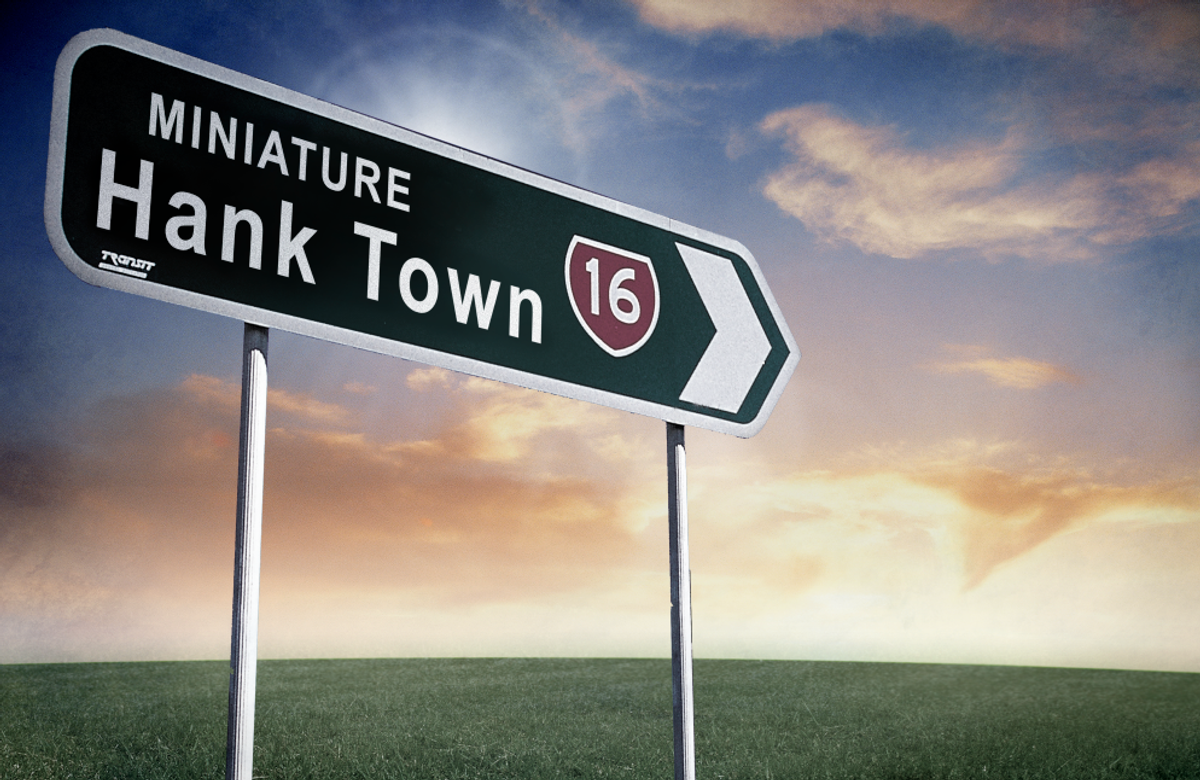 Hi our friends from the world!
Finally we have our own official website & online shop right here.
But because this site was based on other company's template.
So we know that this has caused inconvenience to some non-Chinese speaking friends.
Here we are. We provided the introduction for purchasing process with translation.
Hope you can make your order easily.
Step 1. Created your account.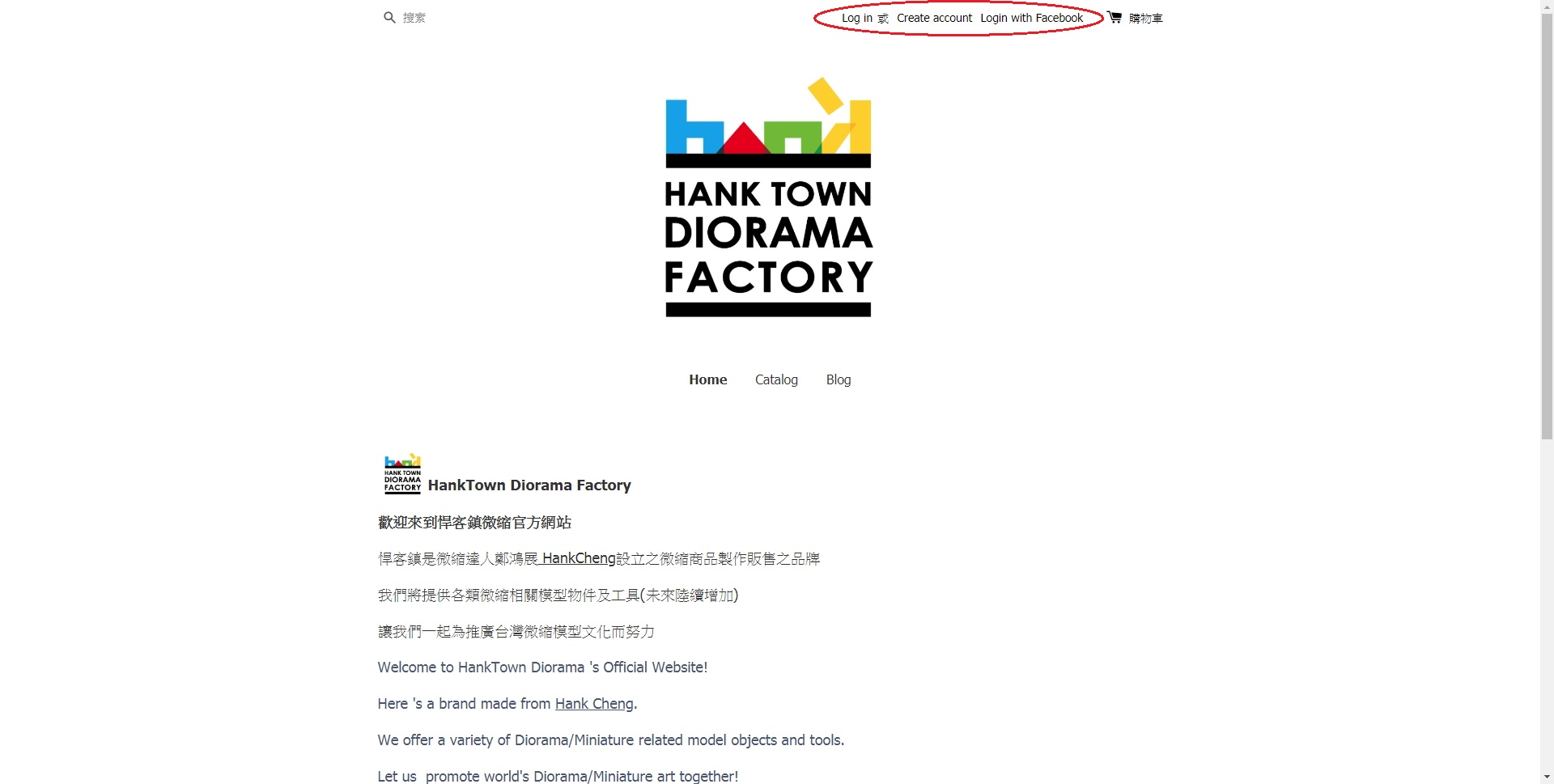 If you had own Facebook account. You can click "login with Facebook" button, created you account faster & skip Step1.
Otherwise please click the "Create account" button.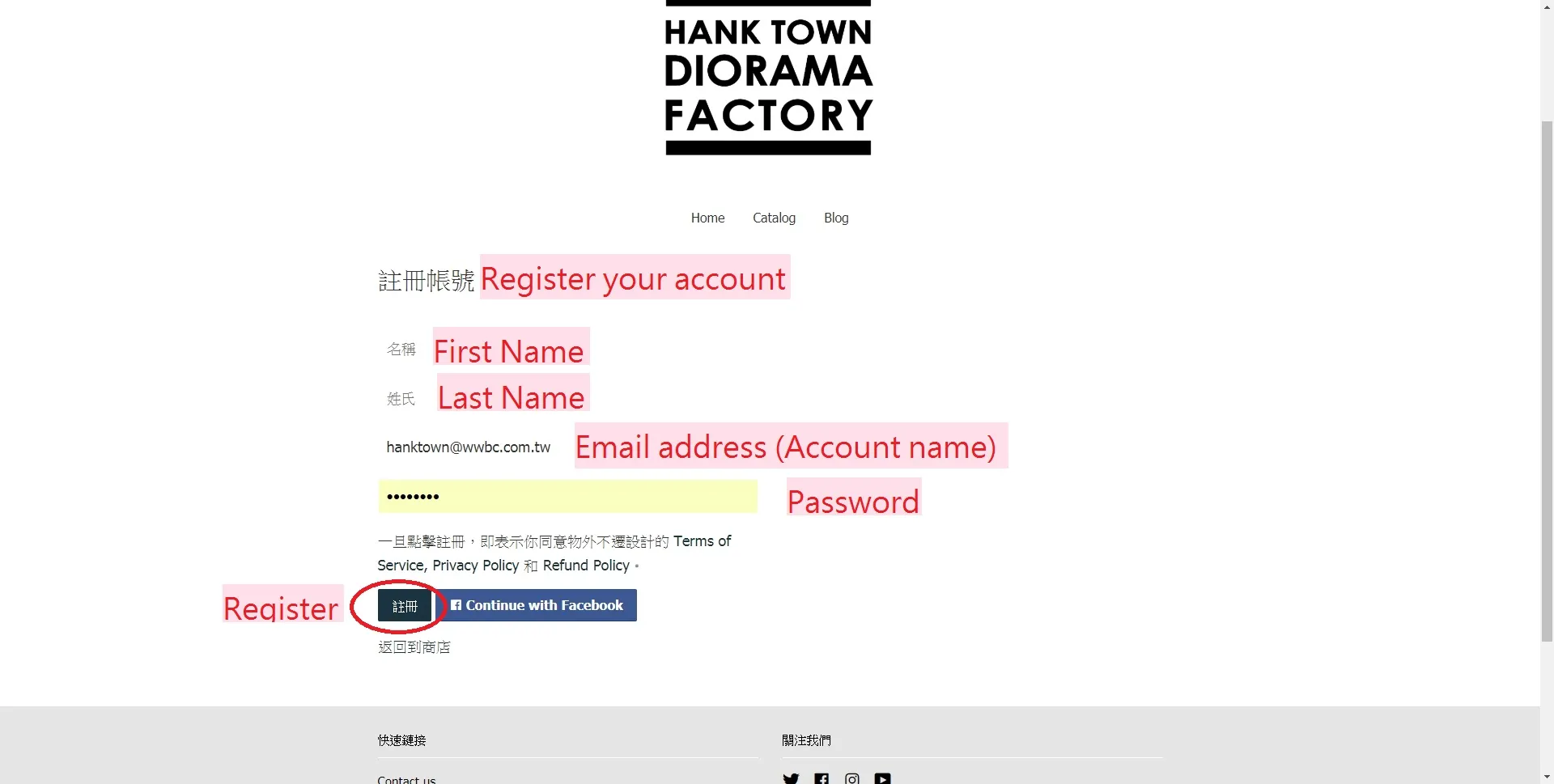 Fill out the form according to the above image's translation.
Click the "註冊"(Register) to the next step.
Step 2. Activate your account.
Please go to your email-box to check the activate mail (now included translation).
Click the activate button in the mail.
And you will see the following page.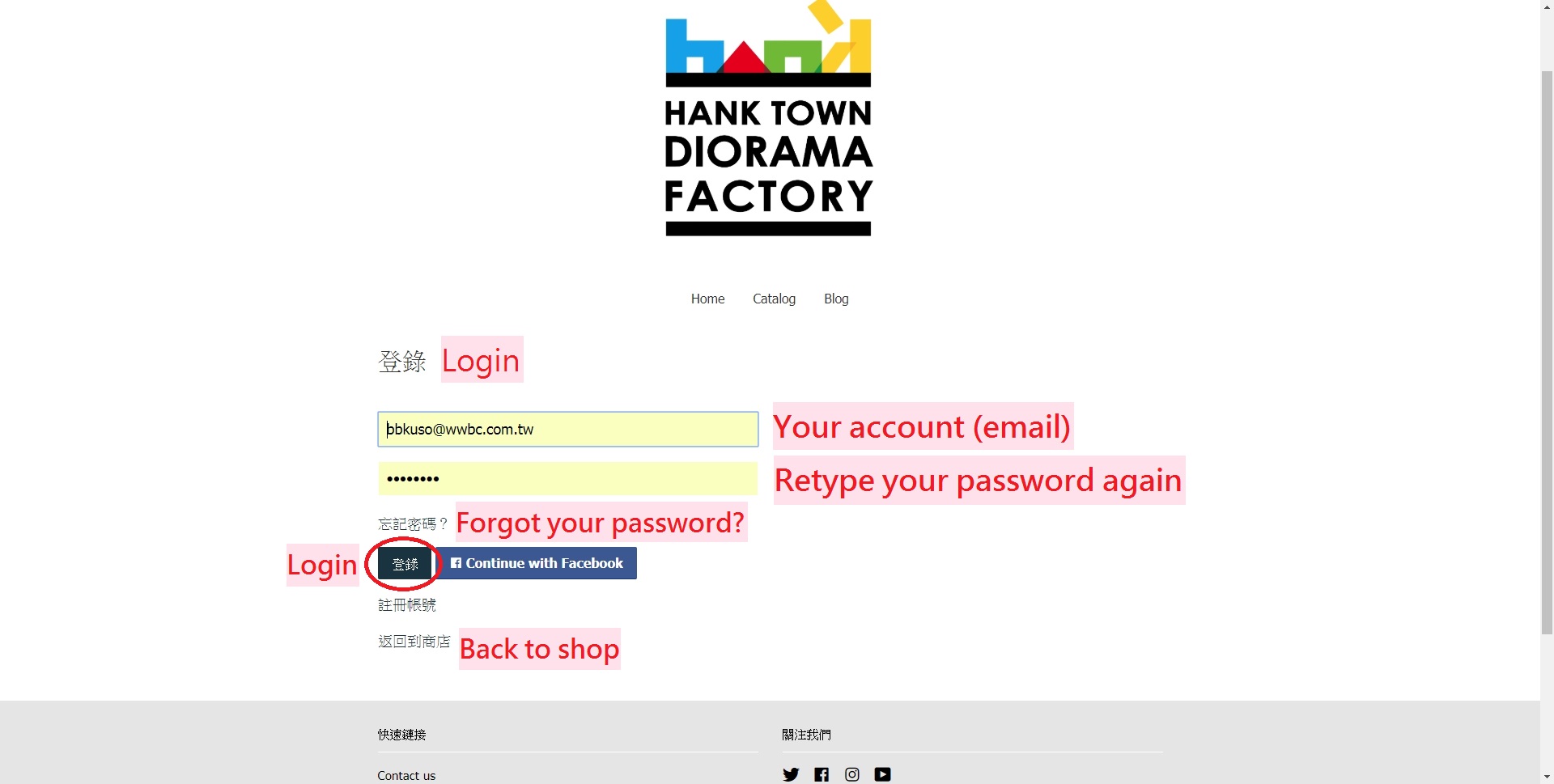 After you retype your account name and password.
Please click "登錄"(Login) button.
Step 3. Make an order
Now you can choose the item you want to buy. (following example by the wastes scene)
When you decide the quantity of the item you want to buy.
Click "加入購物車" (add to shop cart) button.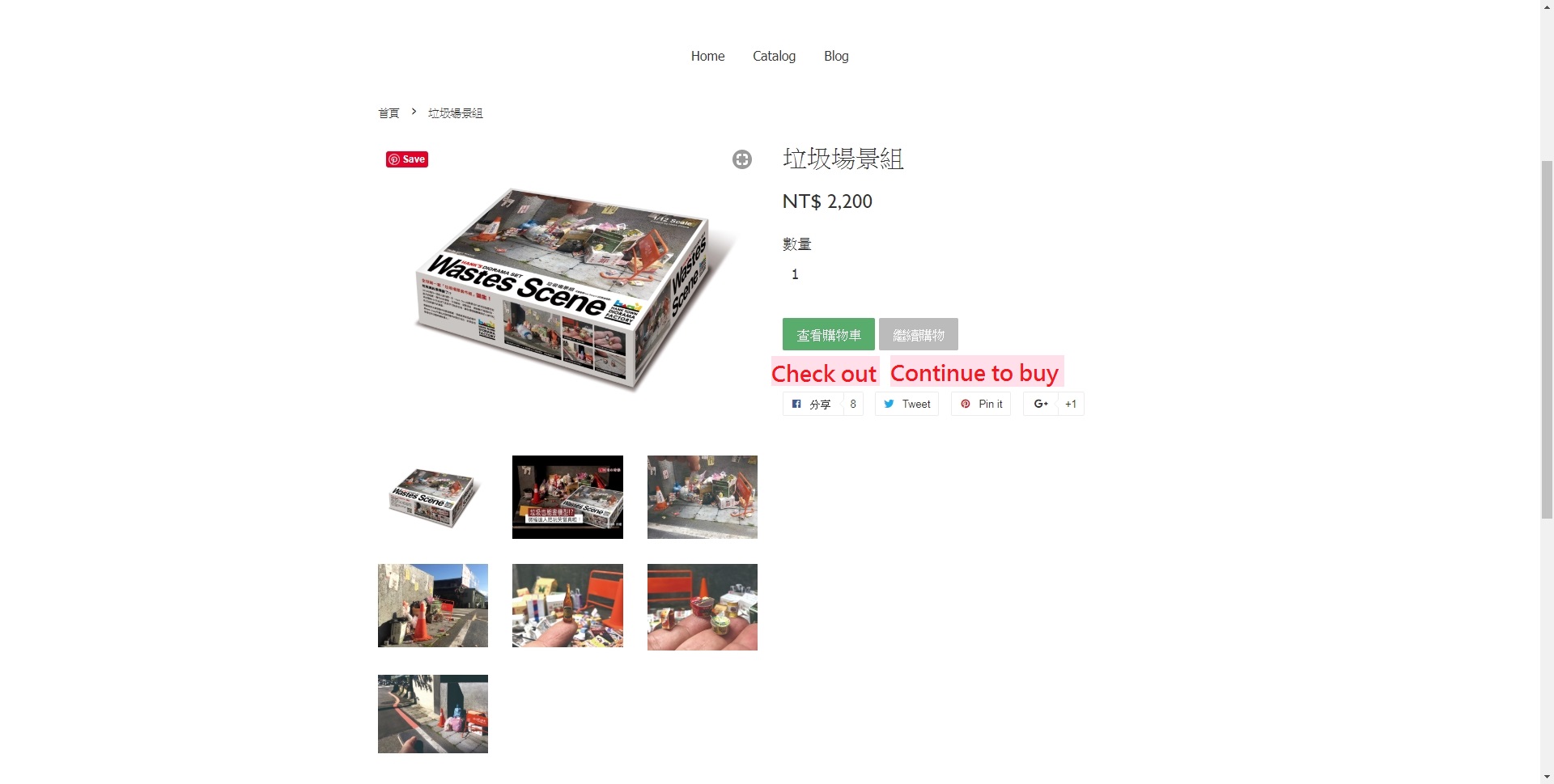 The item was already in your shop cart, You can click "查看購物車" (check out) to checkout.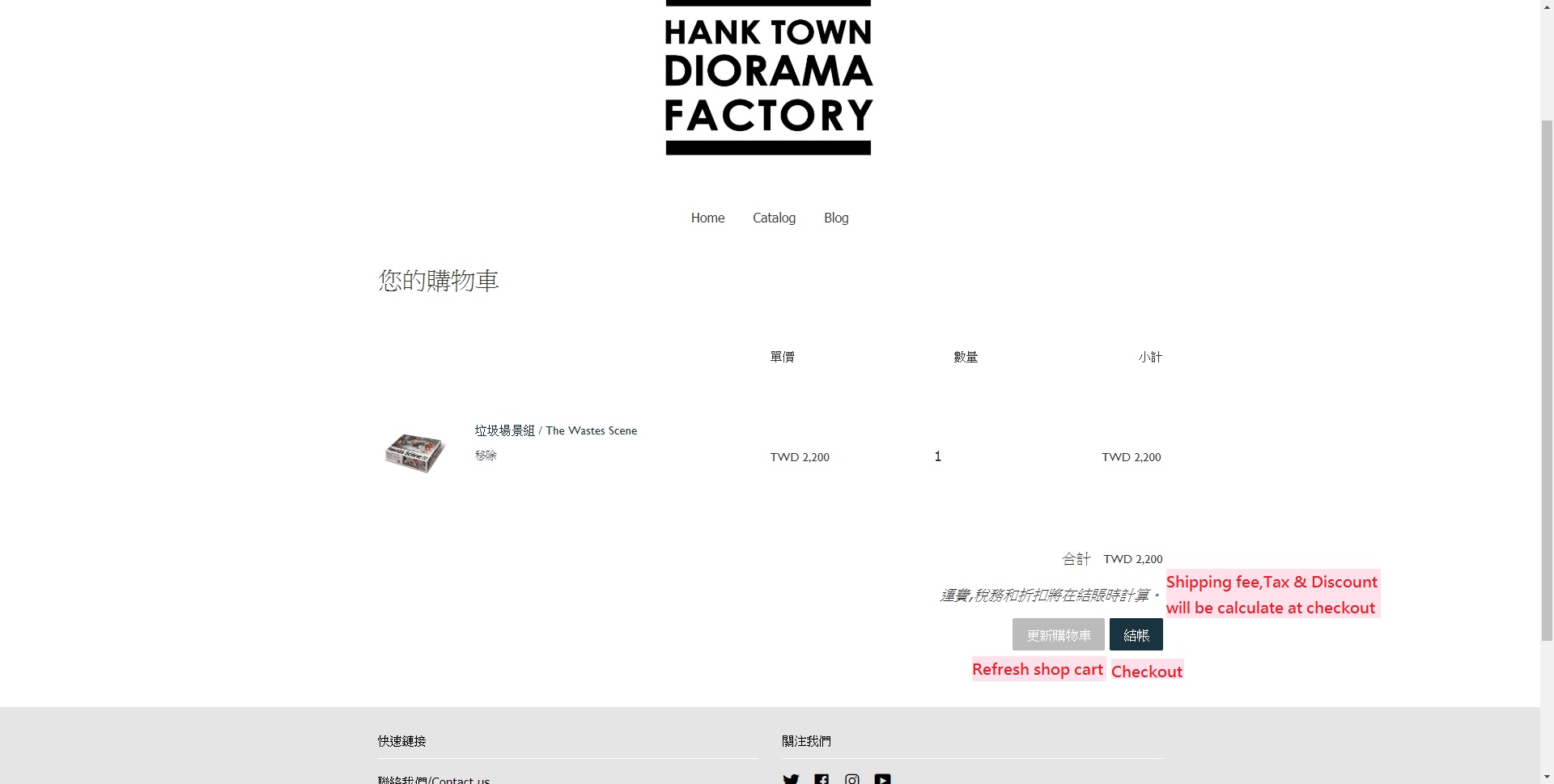 To make sure your order, you will see the page shows the content in your cart. Click "結帳"
Step 4. Checkout your order
Now you will see the checkout form.Please fill the form refer to the following translation.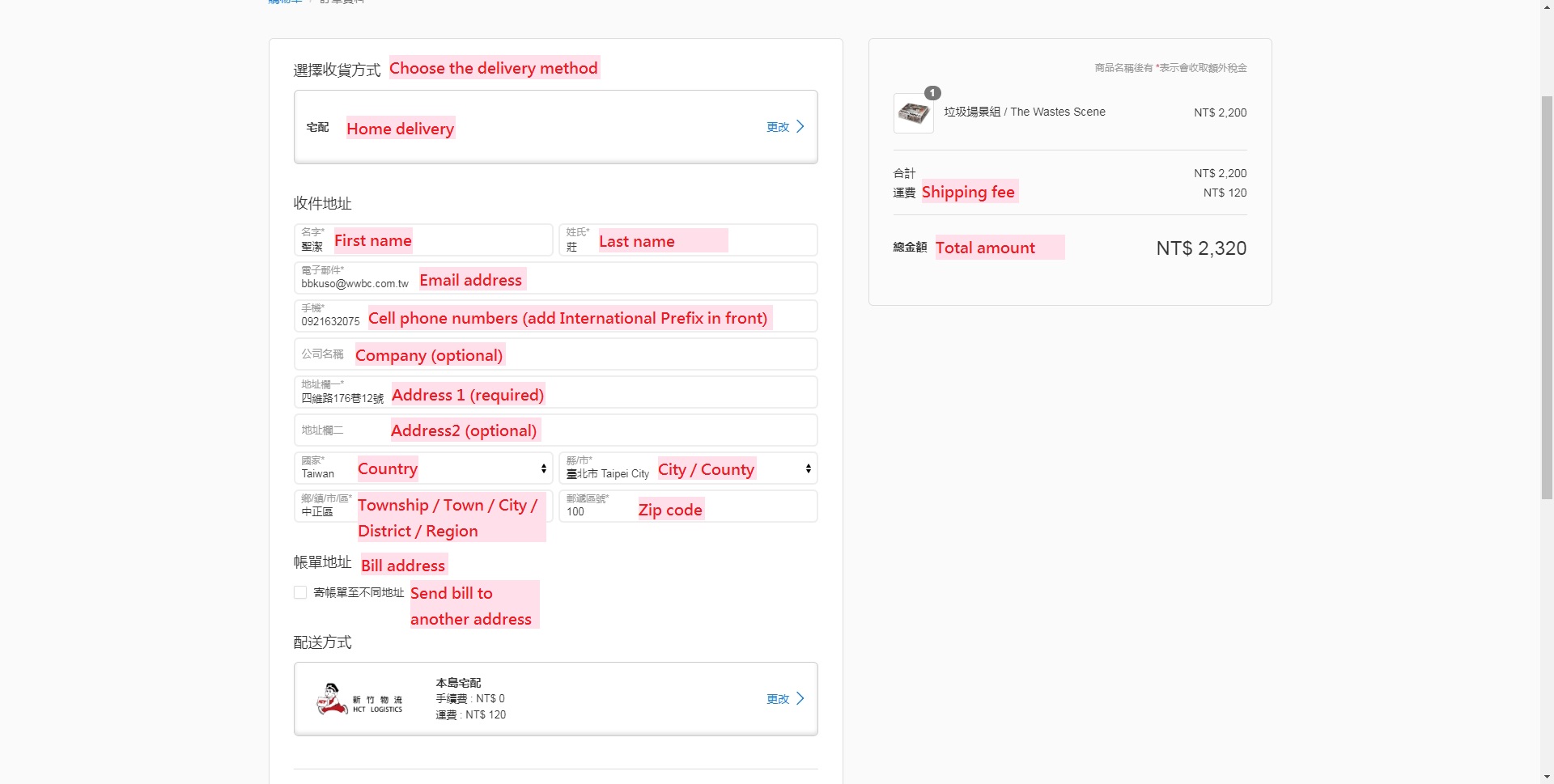 About the delivery method, We provided 1.Pick up by yourself 2.Home delivery 3.Pick up in convenience store.
But we only home delivery for overseas.
Fills out delivery information,Please scroll down the page. Continue to choose shipping & payment option.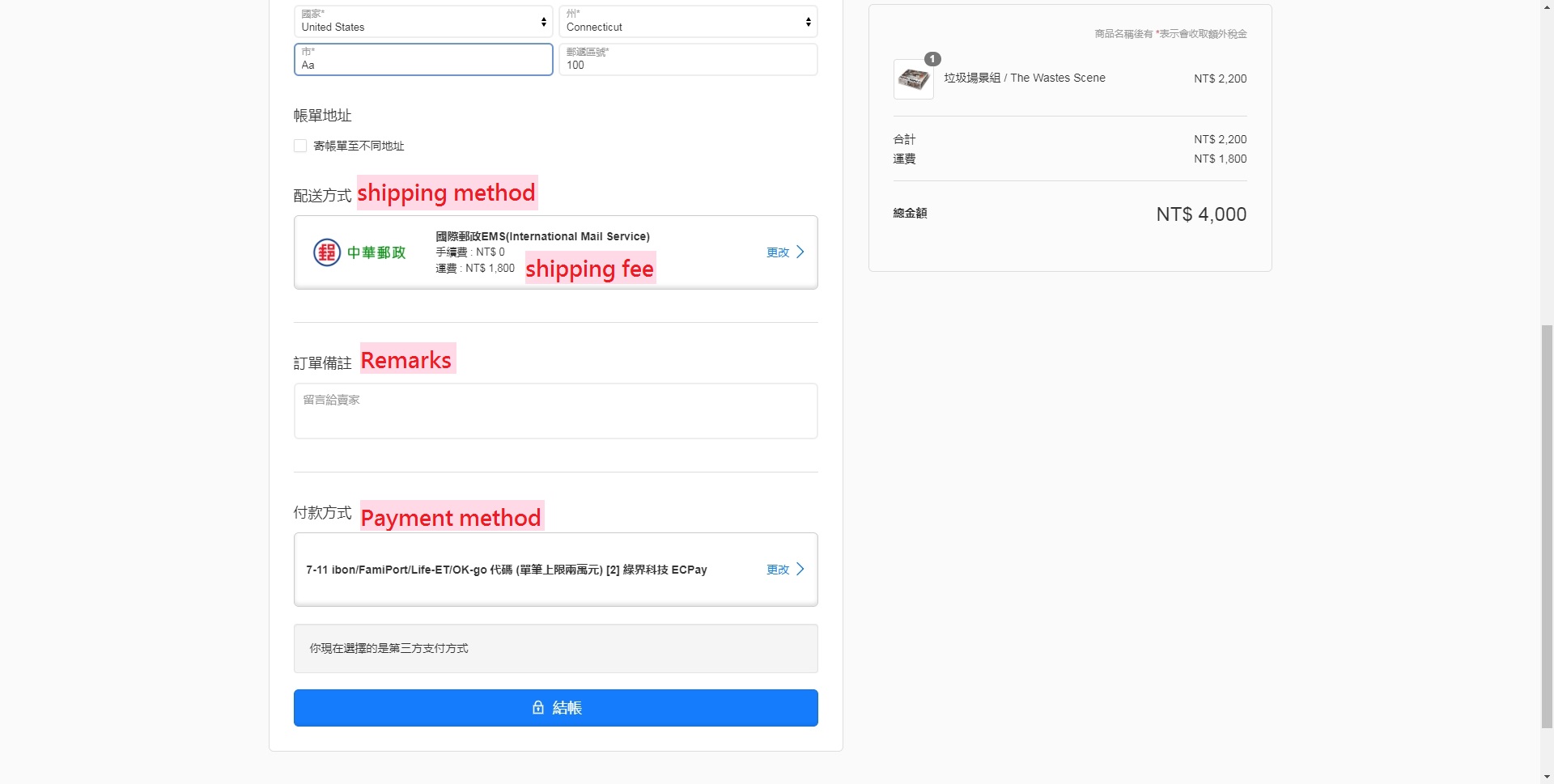 About the shipping method, we only use EMS currently.
Regarding the calculation of international shipping fee, I will write an article detailing recently.
Basically, our shipping fee is calculated by weight.
The minimum is 1 KG, then each additional 0.5 KG for one unit, the cost per unit is fixed.
And the shipping cost will be automatically calculated based on your country of delivery.
Back to payment method, we provided several option for you.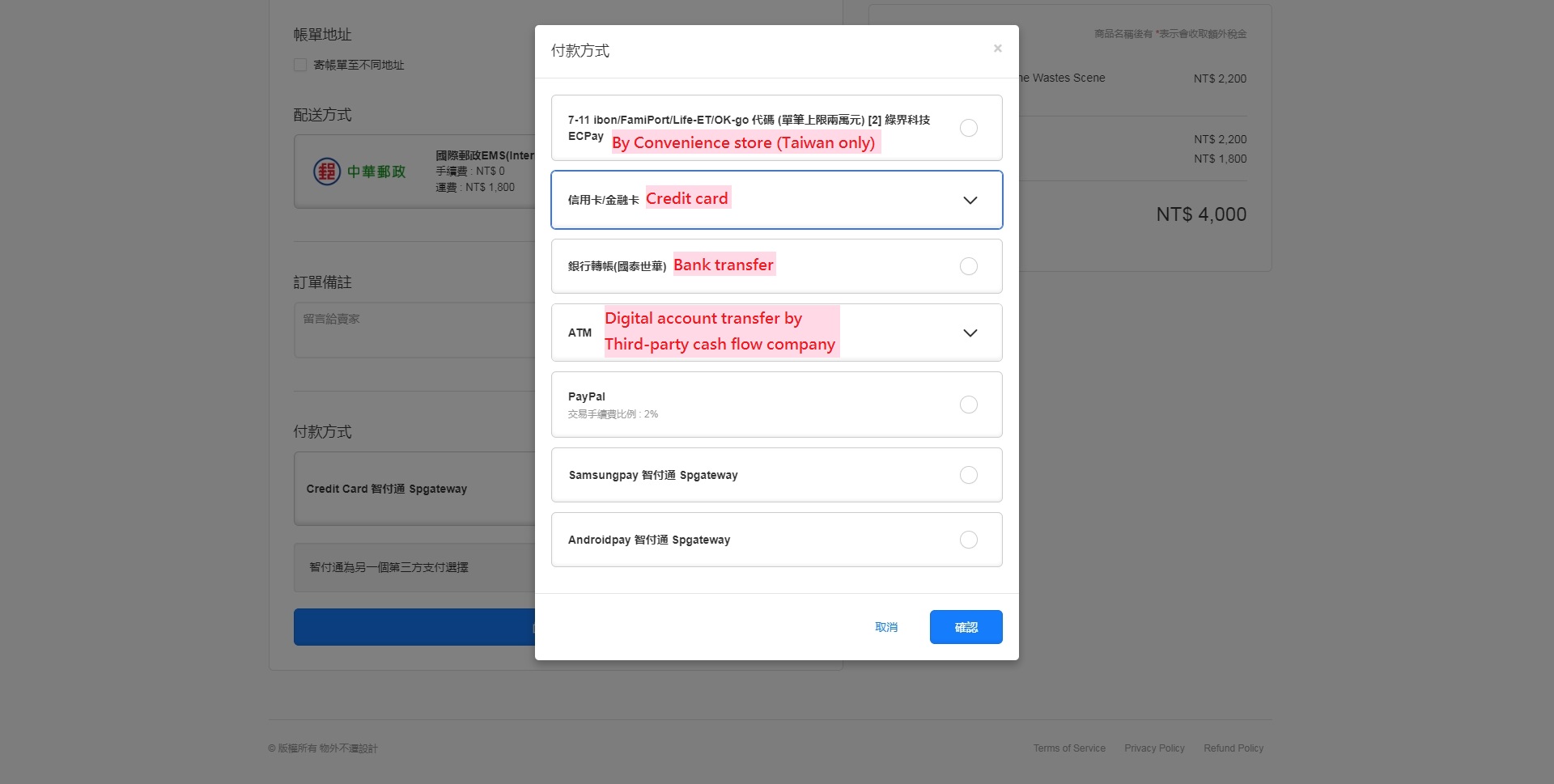 You can choose your payment method. Credit card is recommend.
Because PayPal will cost 2% additional fee.
Due to technical problems, we are currently unable to provide foreign currency payments.(except PayPal)
If you choose to pay by credit card, please refer to the following instructions.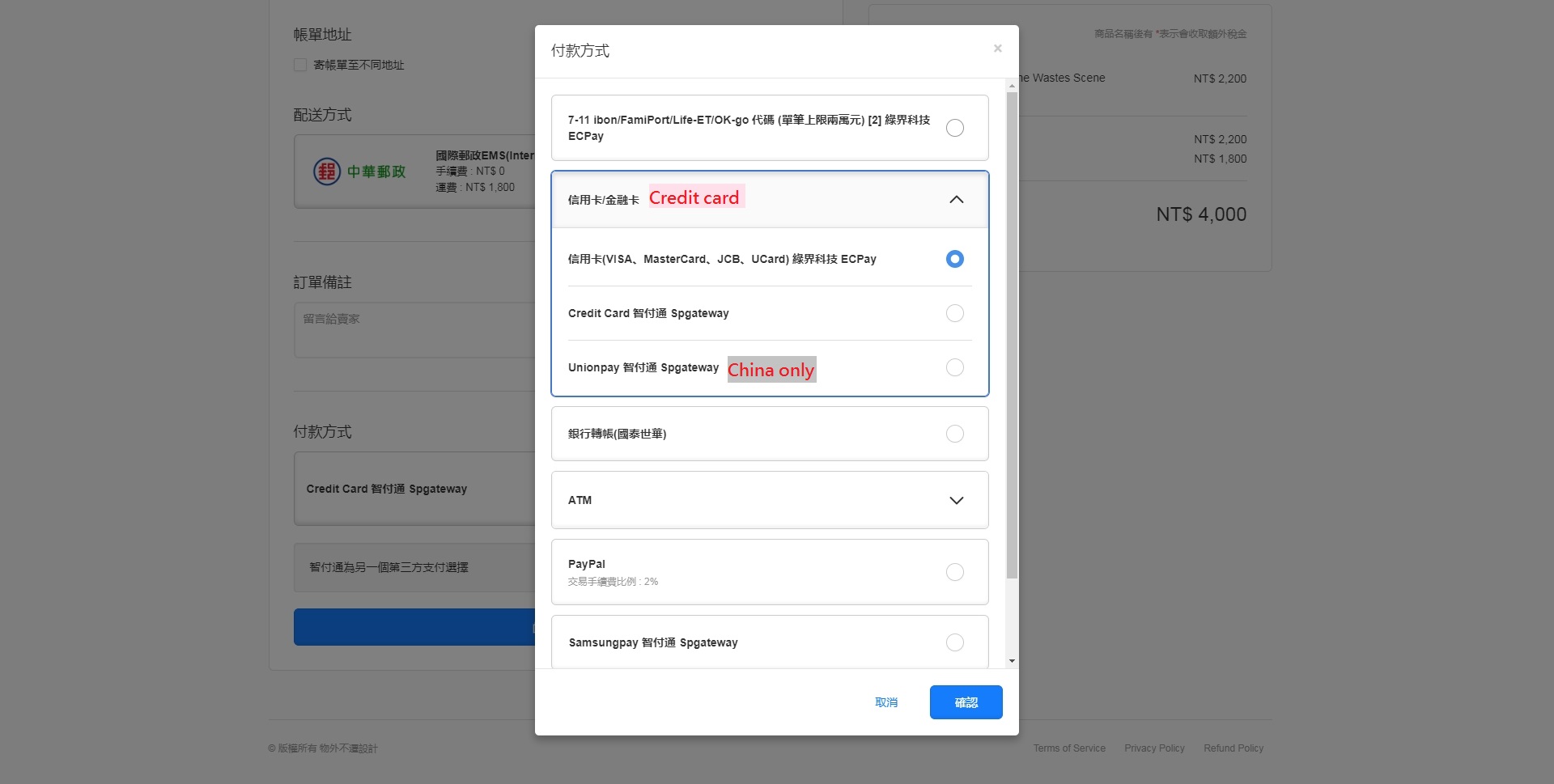 ECPay & Spgateway are both third-party cash flow companies.
If you choose ECPay, you will see the following screen.
Click "付款" (payment) button.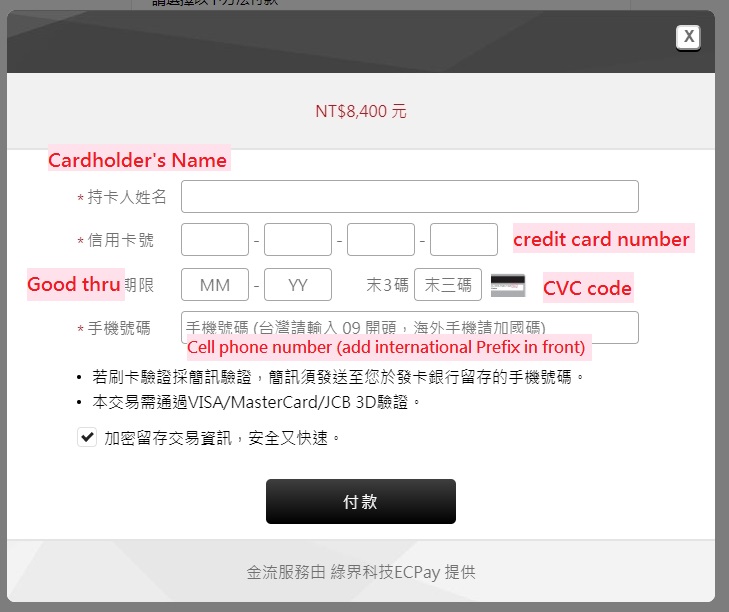 Click "付款" (payment) button for finishing payment.
If you choose Spgateway, you will see the following screen.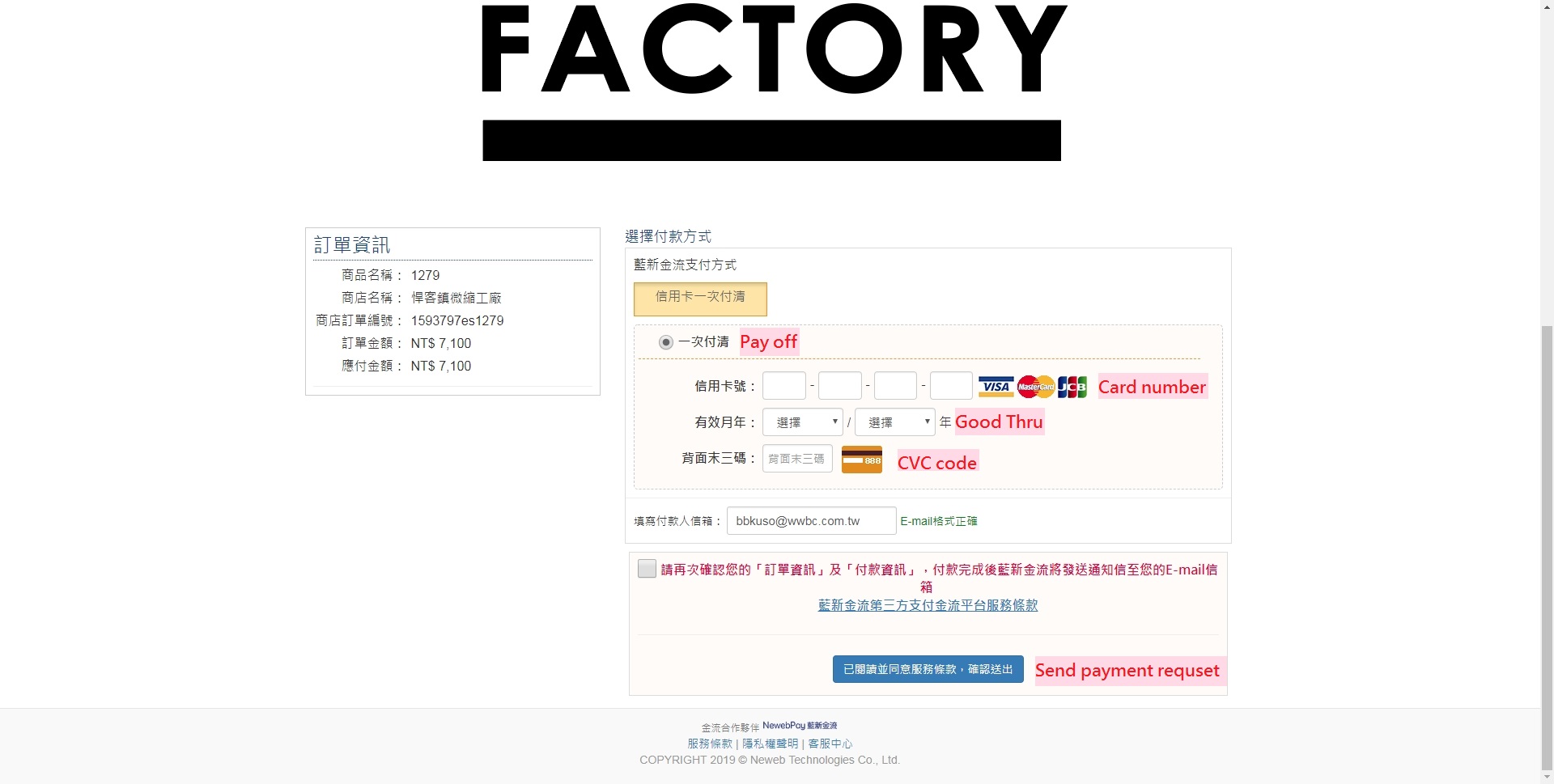 Click blue button for finishing payment.
Congratulations! you have completed the ordering process!
Thank you for your patience.
--------------------
If you have any questions, please feel free to ask us.
Email : hanktown@wwbc.com.tw